Enterprise Content Management (ECM) is the process of managing and storing digital documents and other kinds of content. ECM systems require a team of people to implement and maintain them, to make sure that an organization's data is stored safely. Cloud hosting, on the other hand, refers to storing your information in one or more remote data centers that are connected through the internet. Multiple security-related challenges need to be addressed before adopting the cloud, such as a list of authorized personnel for accessing data, encryption during transit, legal/compliance-related challenges. 
ECM and secured cloud hosting are two terms that are appearing more frequently in today's business world. Unfortunately, many people do not know what these terms mean and their potential benefits. This article will help shed some light on both of these issues in order to show you how they can help your organization.
Enterprise Content Management (ECM)
An ECM system allows an organization to store all its digital information in one place. The documents and other digital content must be stored correctly in order for the system to work properly.
People who work within an organization also use ECM systems as a way to store various documents. An ECM system can be used by many different people, such as in a company with offices around the globe. With an ECM system, all of the staff can access the same documents from any location.
ECM systems will often be integrated with enterprise content management software, which allows all of these documents and other digital information to be stored and managed simultaneously. This is particularly useful for large organizations that need to share information from different departments across the world.
Security Challenges During Cloud Hosting
Cloud hosting refers to storing your information in one or more remote data centers that are connected through the internet. The data centers are managed by different companies. This remote hosting service can be a great way to store all of your digital information in one place, with the ability to access it from any location.
We can achieve cloud hosting in different ways, like Public and Private Cloud Hosting. As the name suggests, Public Cloud Hosting is a phenomenon where we host our server/application/storage on the Cloud Service Provider (few examples: Amazon, Azure, Google Cloud) which are accessible to the public for a certain fee, whereas Private Cloud Hosting can refer to a few different things such hosting our server/application/storage on-premise itself (within organizations physical infrastructure) or with private data centers (private data centers & Cloud Service Provider provide two different services).
Traditionally server/application/storage was designed to work in the on-premise environment. Since the introduction of cloud technology, we have seen the evolution of Cloud Service Providers who offer multiple options for cloud migration. Cloud migration is a phenomenon where we are moving IT infrastructure to the cloud environment (or moving from one CSP to another CSP), cloud migration types:
On-premise to the cloud – Moving all your on-premise IT infrastructure to a cloud environment
Cloud-to-cloud migration – Here, we are migrating our IT infrastructure from one Cloud Service Provider to another Cloud Service Provider.
There is a third type of cloud migration, reverse cloud migration (cloud repatriation) which is not very popular but still utilized depending upon the business use case (ex., legal/compliance is an issue). Here we migrate all the IT infrastructure from cloud to on-premise or a private data center. 
Cloud Hosting is a very lucrative proposition for businesses/organizations as we live in a world where we depend on technology in one way or another to get our job done. Cloud platform gives us the ability of scalability along with a simplified way of monitoring/managing the infrastructure & processes. There are immense savings in adopting the technology with a productivity boost in the organization's overall performance. But to achieve desired results (in terms of cost & efficiency), detailed planning and execution are required with subject matter experts as improper planning and execution may lead to Cloud Repatriation, as discussed earlier.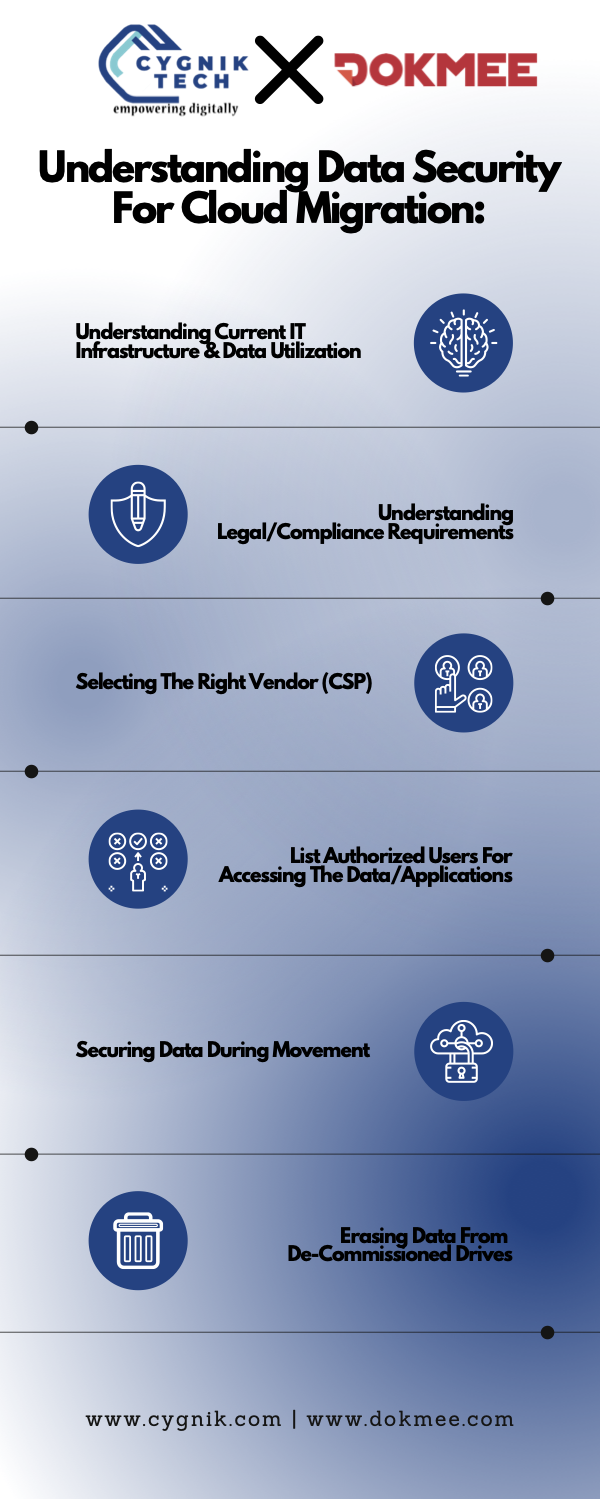 Understanding Data Security for Cloud Migration
Security is one of the other major concerns that hold back businesses/organizations from leveraging the best of Cloud Technologies. This is also one of the reasons for cloud repatriation. We need to understand the security aspect because more than 97 % of companies have adopted some form of cloud service technologies, while 40 % are working on fully migrating their data from on-premise centers to the cloud space. Let's try to understand the data security for cloud migration:
Understand The Current IT Infrastructure & Data Utilization: We need to understand what data we need and what data can be disposed of. Information is valuable, and the migration of infrastructure from one place to another makes it an excellent opportunity to re-evaluate what data needs to be kept. Generally, organizations keep on dumping data without any audit if they need the data after a certain time or not; this becomes a major security concern in the event of a data breach & adds up to the liability of the company. Migration is a perfect time for evaluating the current data.
Understanding The Legal/Compliance Requirements: Certain industries follow strict compliance from regulatory bodies. Healthcare & Finance are two major industries where compliance is strict & any cloud migration needs to be planned keeping those points in consideration ; for example, specific financial data of customers needs to be stored within the country's physical boundaries; in this scenario, we need to do detailed planning for migration. Few regulations that cut across sectors include HIPAA (Health Insurance Portability and Accountability Act of 1996), Gramm-Leach-Bliley Act (Financial Services Modernization Act of 1999), General Data Protection Regulation (GDPR).
Selecting The Right Vendor (CSP): Once a business is aware of its legal/compliance requirement, it would be better positioned to choose the tools and applications to perform the task. Amazon, Azure & Google Cloud are the market leaders in the Cloud space, with Amazon being the first in business. Data that we are moving from point A needs to B may need to be cleaned, audited, or transformed somehow. It won't be a simple lift and shift; proper planning is required at each stage and accordingly, Cloud Service provider should be selected.
List Authorized Users For Accessing The Data/Applications: One of the significant problems in the world of IT (irrespective of its location on-premise or cloud) is providing adequate access to authorized users. The general rule of thumb used in most organizations is to operate on the principle of least privileges, which means end-users are allowed to have access to those applications/files which will be relevant to perform their job correctly.
Securing Data During Movement: Once an organization has decided to move to the cloud from on-premise infrastructure, it's imperative to ensure when data is being moved securely from one location to another. Different factors need to be counted while moving data securely:

Cloud provider works under shared responsibility, & it will depend on the services chosen: Infrastructure as a Service (IaaS), Platform as a Service (PaaS), or Software as a Service (SaaS)
All the data shouldn't be moved in one go, phased-wise transfer of data in a secure environment. This allows the IT team to understand the services from CSP.
Encrypt the data while in transit; a data breach can occur while data is in transit. So, it becomes essential to encrypt the data.

Erasing Data From De-commissioned Drives: Last important step in securing your data is to make sure all the data from your previous IT infrastructure is wiped out.
The benefits of cloud hosting are numerous. When you have your files stored in an ECM system, you can access them from any device that is connected to the internet. This means that you do not need to own or use any specific product for you to access your files remotely; this provides convenience and collaboration to the team. Also, the organizations will achieve security, scalability & flexibility, convenient data backups & most importantly, a reduction in capital expenditure on IT (instead, it will be converted into operational expenses).